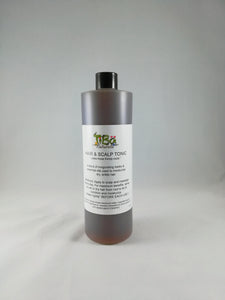 TiBa Naturals
Hair and Scalp Tonic *REFILL*
Regular price
$30.00
$0.00
Unit price
per
***PLEASE NOTE THIS IS A 16 OZ BOTTLE. IT DOES NOT COME WITH A SPRAYER***
Hair & Scalp Tonic is a water based product infused with herbs and essential oils. This potent mixture will moisturize the scalp and soften dry, brittle hair while nourishing the hair follicles.
You'll see a dramatic improvement in the look, feel and strength of your hair. To enhance benefits, seal in moisture with Old School Hair Grease or Coconut Conditioning Oil!
GREAT for cornrows, braids and locks!
FULL INGREDIENTS LIST
Herbal infused deionized water, vegetable glycerin, peppermint essential oil, rosemary essential oil, and optiphen (natural preservative
LOVE
I have used this since i was a loose natural, which i started in 2017/2018. Now i am on my LOC journey and i still use this daily. I really don't use oil on my hair, it doesn't seem to work for my hair. However, this is made it keeps my locs moisturized. My loctician really likes how my hair feels when i go and get a retwist.
Hydrating with a lovely scent
I love, love, love this tonic especially when I wear the protective styles. My hair is not dry when I take down the styles because of the daily usage of this wonderful product. I will be a loyal customer.
The best tonic I have used.
Impressed
Package is still in transit. This tonic did amazing for my hair and scalp . It kept my dandruff at bay and moisturized my hair .that is why I purchased 3 refill bottles.And I love the fact that it is safe. The only thing is I wish it gave my scalp a tingling sensation. I love tingling sensation on my scalp🤗
I love how my hair feels so soft and moisturized.
---