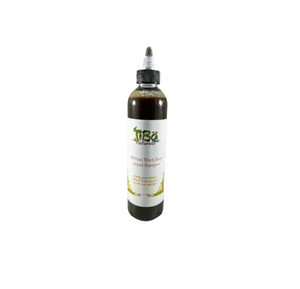 TiBa Naturals
African Black Soap Liquid Shampoo
Regular price
$16.00
$0.00
Unit price
per
A rich lathering shampoo that will clarify your strands and not strip them of vital nutrients. Keep in mind product comes in a liquid form. Do not fret! A little goes a very long way. Use applicator tip and squeeze desired amount onto scalp. Rub gently to create a nice lather and rinse. By placing it directly on the scalp, you will reap the benefits of tea tree, sage, eucalyptus, and peppermint essentials oils. All which are known as scalp penetrating oils that promote growth, strengthens, and add shine.
***Natural settling will occur. SHAKE WELL before each use***
FULL INGREDIENTS LIST
H
erbal infused deionized water, vegetable glycerin, peppermint essential oil, rosemary essential oil, and optiphen (natural preservative
African black shampoo
Sorry but I didn't like this shampoo it was to running it got in my eyes and I could tell peppermint was in it because my eyes burn for a while. If I could return it and get a refund I sure would appreciate it.
Tried the shampoo, LOVED IT!!!!
Ms
This shampoo is AMAZING!!! And it doesn't take a lot to clean the hair/scalp at all!!! Provided a cooling sensation once I was done and my scalp AND hair AND that of my daughter's was clean!! Her hair is super thick and i usually have to wash it multiple times to make sure it's clean....one time and not a whole lot!! And it lather perfectly!!!
---